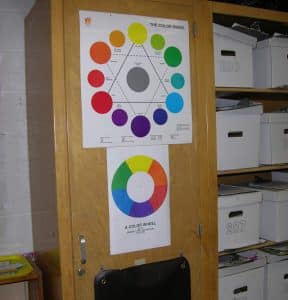 Check local resources for what you need. Below is a list of companies I have used to broaden your choices. Visit sites that interest you. Request a catalog so you can comparison shop. Once vendors have your information you will receive flyers announcing sales especially right before the school year starts.
Ready made learning materials and reproductions are usually in the back part of the catalog of companies selling general art supplies and equipment. Use the search bar to ask for what you want by name such as art prints, color paddles, gray scale, color wheels etc.
Art museum shops have resources available that are connected to its collection or exhibitions they are having. Museums provide reproductions of artwork, games and puzzles for children and educational programs for teachers. Becoming a member of a museum usually gives you added advantages. Its cost is also a professional tax deduction. Art Daily is an art news website that has all the museums in the world listed alphabetically by country.
Customer Service: [email protected]
1-800-559-2598
 Crystal Productions: Art Learning Materials
This company no longer has a website. Find these materials
at the following sites but make sure that Crystal Productions is in the title of the material you want. There are lots of similar materials available.
• Amazon.com
• DickBlick.com
• K12SchoolSupplies.net
• Walmart.com
• United Art and Education
Blick Art Materials
1-800-447-8192
Discount School Supply
1-800-627-2829
Doverpublications.com
Art and Art Instruction
Montessori Services
1-800-214-8959
eNASCO.com
1-800-558-9595
Oriental Trading
1-800-875-8480
School Specialty
1-888-388-3224
United Art and Education
1-800-322-3247
Utrecht
1-800-223-9132