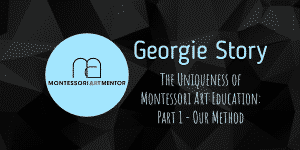 Early in my teaching career, an intelligent, creative nine year old girl asked me to tell her how to make orange. I was prompted to have the children 5-9 record their color theory work and all other Special Work for
an individual art journal that they could refer to when they were in the 9-12 environment
.
I had the experience of going into a generalist environment and giving short lessons in our school's first environment set up for 3 and 4 year olds. I had to do the work on my own in-school planning time. As soon as the lesson was over, I returned to my work in the studio. Neither the teacher nor I spent much time planning together. I had great fun, however I would hardly qualify those short lessons as being a serious art education program. I just added to what she did. When the school had three environments for 3 and 4 year olds, I invited each class to come to the kindergarten studio for an hour on my own in-school planning time. At the time I still had an excellent assistant teacher who was able to make sure I was ready for my next scheduled classes. However, the last five years of my career I managed the
whole art program
without an assistant. Had I not been intending to retire soon anyway, I would have burned out in that amount of time. All Montessori art teachers need a full-time assistant.
One month before I was to retire, I received a request for a visit to my classroom from an art teacher who was taking Montessori training. She wanted to see how
art education looked in a Montessori setting
. She came into the room after the students had gone for the day and did a 360 around the room that was at the time set up for kindergarten students. She exclaimed, as though amazed, that the environment looked like a Montessori classroom. It was a wonderful compliment.