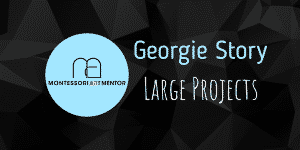 I did not start my teaching career making large projects but did finish it with one. Enjoy The Tree video (See: Generating Personal Ideas for an annotated description of this last large project created under my direction).
Large projects are exciting for the children, for the teacher, for the parents, and for the community. Large can be defined as being produced by an entire class, by all the classes of the same level, or by all children in an entire school. All are possible. All children are a part of the design team.
Large projects can be done using only one art form, or many. It depends on the original idea. For the children, knowing the creative potential of the chosen art form(s) is critical for expressing the idea. Large projects start from the experience of making smaller ones.
As a Montessori Art Specialist I was intrigued and excited by seeing a very large room transformed into a tableau about women. It was created by a parent who was a well known, well respected local artist and museum educator. She invited me to see the work before it was open to the public, and that was the beginning of my desire to give my children and myself the chance to design and create something really big. Our school was covered inside and out with Greek ornamentation. She became a visiting artist for the project to augment and bring attention to the Greek ornamentation of the school's front hall. Most important, it was the beginning of the idea that it is possible and desirable to turn the design process over to children and step out of their way. It is important that the children and their parents know how creative they are.
Note: What follows are accounts of each of the projects that the children and I created. These are offered not expecting you to re-create them exactly, but so that you can realize what is needed when you venture into such an undertaking. I know you will do well.