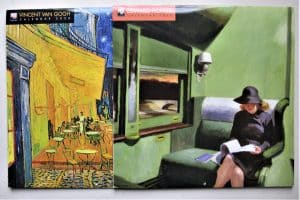 Before the beginning of each year there are picture calendars for sale. Each has an emphasis on a theme. For us as Montessorians the themes that relate to any part of our curriculum are desirable for us to use in our environments.
The art calendars available provide twelve reproductions of the work of an individual artist or of an entire period of art. The whole calendar can be displayed and used as the subject of research or art criticism lessons. Individual images can be use to illustrate any part of the Art Chart such as a design principle, an example of a traditional idea, or how one-point perspective was used in a painting, or a discussion about Internal and External information (See the last chapter in MAM Section The Art Chart).
This year I chose the work of Vincent Van Gogh and Edward Hopper.
The Van Gogh calendar reproductions represent the following traditional ideas: 4 landscapes, 1 portrait, 3 everyday living (genre), 2 still life, and 2 cityscapes. Below each reproduction is a small paragraph that relates to the image. This information is External Information. It represents someone else's information or opinion. Each painting provides Internal Information which is what each person seeing the work thinks or feels about the work. It also is about the questions each person asks when seeing the work. Answering the questions is achieved by research.
The Edward Hopper twelve reproductions are more difficult to identify as being a single traditional idea. There are 2 seascapes, 2 landscapes and 1 cityscape. Of the 7 remaining paintings only 1 is a typical everyday living (genre) image. A single woman is depicted in four of the paintings – one is reading on a train, one is looking out of a building, one is leaving a city building, and one is working in a city office – and there is an absence of other people around them. (In other paintings here, people are shown in a situation with others around, as in a train or bedroom, but are still "alone".) Research about the Hopper works will explain why the subjects in his paintings are often alone.
For most art-reproduction calendar formats, separating the art pages is a simple matter of opening to the middle spread and using a staple puller on two staples, taking care not to scrape the art reproduction there. Lift the staples' arms up on the inside of the calendar, carefully turn the whole calendar over and pull each staple out the back. The best of these art calendars print one reproduction on the back of each month – on paper thick enough to prevent the calendar grid from showing through to the art – so carefully cutting each full page in half will yield twelve works suitable for wall display in the environment. Also, often the back cover of the calendar has a small reproduction of each of the works inside. These small ones can be used for sorting or identification exercises.